Thanks to the members of the NVFD for giving up their time and talent as they apply
over 1200 gallons of water to the "thirsty" landscape.
8/5/17 Tractor Ride and Show
Historic Lecture - Indentured Servants of Geauga County July 26

Community Picnic July 15, 2017
"Bicentennial Historic Lecture - The Interurban Railway - July 12"
Bicentennial Events Schedule - 1817 to 2017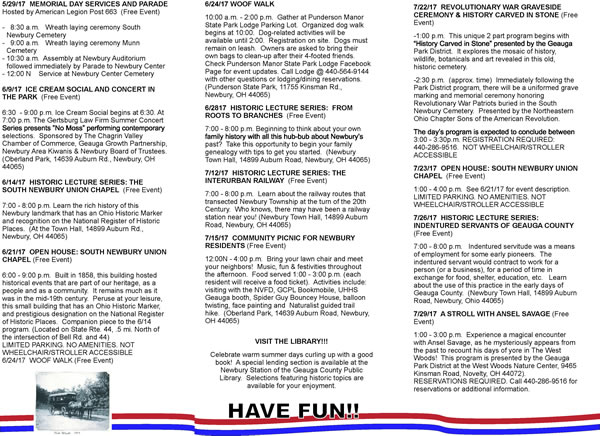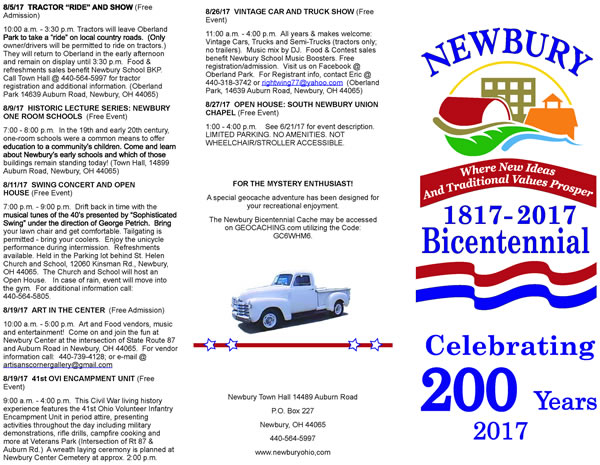 The Newbury Station of the Geauga County Public Library
During the months of June, July and August in 2017, the Newbury Station of the Geauga County Public Library will offer Special Lending Selections for adults and children.  Books will feature topics of historic interest.  Perhaps you are interested in the Suffragette Movement.  Maybe you  want to learn more about the westward pioneer movement of the early 1800"s.  Whatever your interest,  visit the Newbury Library Station during our Bicentennial Celebration, and find your "new" favorite book.  This program is sponsored by the Geauga County Public library, in collaboration with the Newbury Bicentennial.  We appreciate their support!